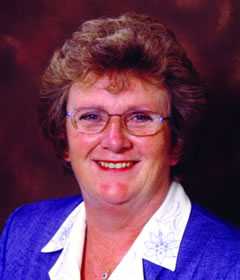 Candidate Profile
Anne Craine - Ramsey
| | |
| --- | --- |
| Full Name | Anne Valerie Craine |
| Age | 52 |
| Marital Status | Married |
| Children | 3 - Ramsey 23, Fletcher 21 and Kezia 19 |
| Place of Birth | Isle of Man |
| Occupation | Full Time Member of the House of Keys |
Contact Details for Voters
Address

The Carrick,
Port Lewaigue,
Maughold
Isle of Man
IM7 1AG

Telephone

Fax

Email

carrick@mcb.net
Political History & Views
What is your political history or relevant experience?
Member of the Board of Education 1992-2003
Magistrate
Member of the House of Keys for Ramsey 2003 - date
Member of the Department of Local Government and the Environment with responsibility for Estates and Housing 2003 - date
Member of Department of Trade and Industry 2004-2005
Member of Department of Health and Social Security with responsibility for Health 2005-date
Member of the Standing Committee on Expenditure and Public Accounts 2004-date
Member of the Standing Committee on Economic Initiatives 2004-date
Member of the Constitutional and External Relations Committee
Member of the Energy Policy Committee
Member of the Overseas Aid Committee
Have served on various Select Committees
Are you a member of any organisation which guides or influences your political views or polices?
No, but I am involved with the following organisations which reflect the importance I place on community and family values:
Founder - Ramsey Young Peoples Project
Organiser - Ramsey National Week Celebrations
President - Northern Neighbours
President - Maughold Social Club
Vice President - Ramsey Town Band
Vice President - Ramsey Football Club
Vice President - Ramsey Ladies Cushag Choir
Vice President - IOM Standard Bearers Association
Committee Member - Bonwick House Family Resource Centre
Member - Ramsey Chamber of Trade
Patron - IOM Family History Society
What are your main national issues?
What are your main local issues?
Provision of 24 hour services of Minor Injuries Unit at Ramsey Cottage Hospital
Development of Ramsey Marina accomodating the needs of present harbour users.
Promotion of new opportunities for local industry
Investment in the retail sector
Greater provision of affordable housing and sheltered accommodation
Restoration of the Queen`s Pier
Increased provision of leisure facilities for young people
What do you believe you would bring to government as an MHK?
A full time commitment to a full time job.
Energy, enthusiasm and an ability to work with others as part of a team for the betterment of Ramsey and the Isle of Man and its people.