Glenfaba - David Anderson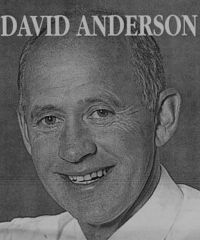 OVER the past two months I have endeavoured to meet as many constituents as possible. I still have some to visit, but I hope between now and 22nd November to complete door to door visiting. If you haven't had a visit yet and would like to arrange a suitable time please ring me on 842393
This manifesto will hopefully give you an idea where I stand on various issues - highlighting the areas I believe government will need to concentrate on over the next five years to protect our economy whilst preserving the quality of Island life and our unique Island heritage.
The Economy and Population
Although the Island's economy has gone through a period of unparalleled growth and prosperity, I have become aware of a number of issues whilst listening to a wide cross section of voters in the constituency.
It has become a glib but true saying that we have "too many eggs in one basket," with over 40% of wealth being generated from the finance sector. As far as diversification in this sector is concerned there appears to be an attitude in some areas of Government that the end justifies the means; if a revenue can be obtained it should be pursued regardless of its ethical advisability. I am concerned that we should not disregard the high moral values which we have inherited from those who have laid the foundation of our current success, taking care that only businesses that enhance the Island's reputation and do not accelerate the population growth are allowed to operate from our shores.
The current rate of population growth is too high. Whether one is Manx or in a position to call the Island one's home we all value it for what it is and fear what it might become if the present rate of growth continues.
I believe it is strategically important not only to maintain and develop a financial sector that operates to the highest professional standards, but also for the Government to do all it can to maintain a healthy and broad-based economy.
Over 80% of Manx businesses employ fewer than five staff. Having run and managed a Manx company for many years I include myself in the group who finds the increasing demands of administration a concern. Whilst aspiring to the highest standards of operation we need to only adopt legislation appropriate to our Island and, where necessary, to provide assistance to the small businesses at the heart of our community by providing appreciate levels of support and training.
Personally I would support small businesses in the Island. I feel their interests need to be represented both individually and through developing links with the Chamber of Commerce and other representative organisations.
Whilst recognising that we should continue to diversify the Manx economy, I believe that in view of the current restrictions of labour and housing the growth and prosperity of our small and medium sized Manx businesses should be a greater priority as they are, and will continue to be, a key element in maintaining a strong, vibrant economy.
Tourism
I believe we need a change in emphasis in promoting tourism; we should be making more use of our natural environment. The Island's outstanding coastline and countryside is a haven for walking, bird watching and outdoor leisure pursuits. Eco-tourism is a fast growing market which I feel should not be overlooked. The construction of a couple of strategically placed Youth Hostel units would enable a wider age group to appropriate our extensive footpath network.
I would support the development of a non tidal marina on the Island. Our situation is ideally placed for taking passing yachting traffic traveling round the Irish Sea as well as those wishing to make the Island their yachting destination for holiday and long weekend stopovers.
Housing
The current shortage of affordable housing especially for those trying to get on the housing ladder for the first time is a problem. The present government has been slow to acknowledge this. Although there is now more movement from government to assist in house purchase schemes, there is genuine concern that those not working in the higher income sectors are putting undue pressure on themselves and their families in having very high mortgage repayments. A fresh approach looking at the possibility of joint ownership where 50% of the equity belongs to government with the house purchaser finding a mortgage on the remaining 50%; having the option of 'buying out' the government at a future date is a possibility. Selling the property back to government (if wanting to upgrade) and thus retaining the property in the scheme for others to benefit, is another realistic option.
Not everyone is or will be in a position to own their own home, so it is important that government maintains an adequate supply of local housing stock which should be matched to family needs. The recent development of Magher Vay in St Johns is a prime example of how retired people can move out of larger properties releasing them back for families, not only in the public but private sector as well.
I think it is important that we should all be treated equally when the time comes for us to move into care establishments in our later years. Those who have saved to own their own home should not have to fund themselves. We should all be able to look forward to our later years without the threat of the family home being used as our 'care fund'.
Education
Having been educated on the Island myself and having seen my own children come through today's ever changing educational system, I am aware of tremendous changes in many areas of curriculum and the way in which our children learn. We have many very committed and talented staff in our schools who deserve our full support. Within Glenfaba are situated QEII High School, whose reputation continues to impress locals and new residents alike, and two of the best primary schools on the Island at Foxdale and St. Johns. It is good to see the long awaited new school starting to be developed at St Johns. Although not in Glenfaba, many of our children from Dalby, Glen Maye and Patrick presently attend Peel Clothworkers Primary School. It is important that careful planning and resources are given to all the schools to cope with the undoubted influx that will result from the large housing developments on the boundary of Peel. I believe that too often resources are given retrospectively.
Often in the past we have been guilty of slavishly following the UK in adopting changes to the education system rather than sitting back, seeing how it works and considering whether it would be suitable for our students and staff. This, of course, is not possible in the higher end of secondary education, but I believe it could save a lot of time and effort in the primary sector.
Children are the future of the Island and we should not compromise in providing them with the best education available.
External Issues
The Island is facing many external issues and is likely to face more in the future. These issues include initiatives by: Financial Action Task Force, Financial Stability Forum, International Monetary Fund, Edwards review, and many others. The issues include anti-money laundering, updating our laws in the area of trusts and companies, exchange of information and the protection of personal privacy; transparency; non-discriminatory tax regimes; maintaining a competitive advantage and many more.
The Island competes in a large global marketplace and although we do have to be competitive and we do not wish to drown in a sea of over-regulation and red-tape - it is important for the Isle of Man, if we are to retain and attract reputable international businesses, that we are a well regulated jurisdiction. The fresh and dynamic young Manx people who are entering into employment on the Island these days will not tolerate anything less. These young people (who are the future of the Island) expect to work in a modern, progressive, tolerant and vibrant community. If we cannot offer them that then we run the risk of losing them.
In dealing with all these issues it is vital for the Island to promote the desire to meet and in some cases lead international standards. Although we should jealously guard and advance our independence, we must be a responsible member of the international community.
Capital Expenditure
Over the past 10 years, Tynwald has committed future governments to very significant capital spending. Whilst many schemes are needed to update our ageing infrastructure, it does appear from outside government that many wrong options have been taken and that the prevailing opinion is that the most expensive solution is always the best. I firmly believe that in many areas we have not taken the correct decision for the Island situation and our valued environment.
The incinerator project has reached a point where it would appear to be impossible to prevent its construction. There is a need to incinerate animal and surgical waste, but I think that the scale of the 'energy from waste' facility proposed is incompatible with a policy of minimalisation, reuse and recycling. The land acquisition has now been made, DOLGE has signed contracts with a waste management company (which would cost "l0's of millions of pounds to get out of") and work has already started. All this makes it almost impossible for the new administration to change policy. It is clear from the vast majority of constituents of Glenfaba that they are unhappy with the concept of large scale incineration and the tactics used to further it.
The Iris project is another example of layman's logic going out of the window - to pump the Island's sewage from all around the Island to one site is not only a waste in terms of the future energy requirements to pump it but it will create a lot of unnecessary transmission pipe laying and consequential inconvenience to the general public.
Although the need for a new hospital was justified again the location was questionable. The implications of building the hospital on a green field site inside the TT course is one that doesn't rest easy when balanced with common sense. We now have to make the most of this facility and hopefully learn lessons that can be put into use with future capital projects.
I do not think Tynwald has scrutinised the appropriateness of these schemes and their scale to the real future needs of the Island. We need to utilise the undoubted expertise of professionals from various backgrounds who have come to live on the Island.
Planning
The recently published draft all Island Strategic Plan, although a long overdue document, is a step in the right direction in that it aims at addressing future Island needs and how to meet those needs. There are though in my opinion, many areas that have not been properly considered. I am firmly of the opinion that if development needs to take place at the rate predicted, it is time a new settlement was planned to take the pressure off existing towns and villages so that they can develop at a more natural rate, predominantly for people to live in the locality in which they have been brought up. Planning a new settlement now instead of 10 years time would enable the drawing up of criteria for the location and full public consultation before a special planning inquiry and subsequent Tynwald approval.
It is clear that the 3,500 dwellings said to be needed in the next ten years cannot fit comfortably "within the natural boundaries of existing villages or settlements" and that to progress down this road will inevitably lead to frustration and local opposition.
The Planning Process
The planning process is viewed by many with a mixture of cynicism and suspicion which I feel calls for a fundamental review of planning on the Island in an attempt to restore confidence, install accountability, and give the people more ownership of planning in their area. The present planning system that allows retrospective planning
approval is being widely abused and should incur a heavy planning fee/fine. Innocent people can make a genuine mistake once but after that it is clear they are taking advantage of toothless enforcement regulations. Retrospective applications would be greatly reduced if planning enforcement was more effective. I would support first stage planning being delegated to local authorities (with any professional advice from DOLGE).
Constitutional Issues
I believe that our legislative system with the Legislative Council acting as a revising body but with members playing significant roles in government departments has worked well for generations.
Within the life of the last house, elections to the Legislative Council have become a charade. In the past senior politicians have taken their expertise to the Legislative Council or retired, allowing new blood into the Keys - this has not taken place and as a result the system is breaking down. Let us hope the new house will act more responsibly.
I do however believe that except in exceptional circumstances all Ministers should be appointed from the House of Keys. I also think that before making major department decisions any minister should have the support of the majority of his political colleagues.
I firmly believe that any numerical change to the make-up of the Keys would be detrimental to the representation of Glenfaba. I would seek to maintain rural representation. The present situation where some constituencies (like Glenfaba) only have one MHK, others two and some three will undoubtedly come under the spotlight in the new house.
The latest proposal to reform local government has many serious flaws and will inevitably lead to more bureaucracy with another tier added to the system and the resultant cost to the ratepayer. Small local authorities are more in touch with their communities than bigger authorities. I can see no useful purpose being served by imposing change in the structure of local authorities.
Agriculture
The last five years have seen the industry having to cope with many crises, the majority out of our control with both BSE and of course Foot & Mouth in the UK having a tremendous knock on effect on our markets and the way we have to operate our businesses. The livestock sector has borne the brunt of this but because our sectors are so interdependent the whole industry has suffered.
The responsible decision that enabled the defence against Foot & Mouth to be maintained through the cancellation of the TT has been appreciated by the agricultural community in particular the sacrifice made by the tourist industry.
Through this turbulent period many of our smaller farmers have had to take up part or full time employment to make a living and fit their farming in before or after work or at weekends. Younger people trying to get on the farming ladder are also struggling to get established. It is vital that government support more than matches the support given by our European neighbours for our produce to be competitive and find niche markets for our exports as well as ensuring the widest range is available for our home market.
To be cost effective we must keep our throughput at the meat plant and creamery fully utilised, always aiming for those value added markets.
The recent political leadership in the Department has taken on board many agricultural concerns and it is to be hoped this same attitude can be maintained in the next five years to enable the industry to invest and look to a brighter future.
Agriculture has been a very resilient industry. That resolve must be protected so that we do not see an eroding that could result in the custodians of our countryside throwing in the towel and losing what the Island community takes for granted.
The Environment
The Island's natural environment is our most valuable asset and its protection and enhancement should be encouraged. As the balance of agricultural support changes to supporting environmentally friendly farming practices, it is important that government schemes enable farmers to participate at different levels. To maximise environmental gain it is essential that most of the funds available actually benefit the environment and are not swallowed up in administrative costs. We must not only meet our obligations on international conventions on wildlife protection but we should also implement policies with regard to renewable energy and show that the Isle of Man Government takes its responsibilities for stewardship of its domain seriously.
Local Issues
Traffic Management
Undoubtedly the biggest concern throughout the constituency is the speed of traffic through our villages and the impact on our quality of life. There are no easy solutions, However, I believe that the introduction of an all Island speed limit coupled with local traffic management controls after consultation with DOT, the Police, local commissioners and residents on a regular basis to highlight priorities, would be a big step in the right direction.
Health Matters
The present system of making appointments to see your GP, which inevitably means waiting several days, needs appraising. Reducing doctors' workloads with paper-work and giving them more time to consult should be made a priority. More housing developments in the west and centre of the Island would logically mean increased staffing or a second practice.
The closure of Ballawattleworth Nursing Home has highlighted the urgent need for another nursing home in the West. We should give those who have given their life's work to make our communities what they are the opportunity to be looked after in their own locality, close to their families and friends.
Recreation
The welcome inclusion of the Western Swimming Pool in government budgeting shows that this long awaited scheme is coming to fruition. Not only will it be utilised by the general public but will be a real benefit to our local primary schools.
The all weather Astroturf at QE11 is a welcome facility for sports people in the West of the Island.
The Youth Club in Foxdale provides many opportunities for young people in that area. The creation of a skate park in Foxdale is to be welcomed. It would be good to see playground facilities included in the proposed development behind the Lhargan Estate in Glen Maye.
I have arranged some public meetings, dates and venues as follows:
Glen Maye Methodist Hall Tuesday, 6 November

Cronk-y-Voddy Young Men's Club Wednesday, 7 November

Foxdale School Wednesday, 14 November
All meetings start at 7.30 p.m.
Please do come along.
If you are not well enough to go to the polling station or you are going to be off the Island on 22 November, it is still not too late to obtain an application form either to be treated as an absent voter or to appoint a proxy to vote on your behalf.
If you need a lift to the polling station
If you would like a car sticker to show your support!
Please ring 842393
Published by D.M. Anderson, Ballamoar, Patrick, Peel, Isle of Man
Printed from the IoM Elections Website. www.iomelections.com
REPRESENTATION OF THE PEOPLE ACT 1995
PLEASE NOTE
The views and opinions stated within this manifesto are those of the electoral candidate and not those of 3 Legs Limited or its staff. Inclusion within this website does NOT represent any endorsement of this candidate by 3 Legs Limited.
3 Legs Limited is politically neutral in respect to this website and its contents. The above text was provided by the election candidate.
3 Legs Limited is not liable for any errors or omissions. E&OE