Castletown - Tony Brown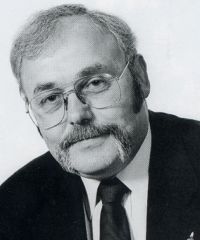 Dear Constituent,
As you will be aware, I have been returned unopposed to represent Castletown as its member of the House of Keys. I am very honoured to have been returned and for the trust that has been put in me to continue to represent the town's, and the Island's interests. I can assure you that I will continue to do my best for you, Castletown and the Island.
Over the last couple of months I have been calling to see and to discuss with the people of Castletown matters relating to the General Election. If I have not yet been to your home and you wish to discuss with me any issues of interest, then if you contact me I will be only too pleased to call on you at your convenience. Alternatively you may wish to call at one of my Constituency Surgeries.
During the last 20 years I have held many important and senior posts in the Manx Government. I am presently Minister for Transport, and up to the dissolution of the House of Keys was deputy Speaker of the House. This has provided me with considerable knowledge and experience, both in relation to Government and Parliamentary matters which is of considerable benefit in my work as your MHK.
There are no half measures in being an MHK - it is full-time demanding work and it requires total commitment, especially in a single seat constituency like Castletown. I have always given that commitment and will continue to do so.
This newsletter gives me an opportunity to tell you something of the work I have been doing on your behalf as your MHK during the past five years. It is of course only a small insight into matters I have dealt with, which I hope you will find it of interest, and also included are my policies for the future.
Yours sincerely,
Tony Brown.
£8m for Castletown!
Over £8m worth of Government investment attracted to Castletown during the past five years!
In the last five years, as Member of the House of Keys for Castletown, Tony Brown has helped secure over £8m worth of Government investment in the town. Some of the main areas that have benefited are:
Investment in lining the town's sewer system;

Development of the Millhope Elderly Persons' Complex in Mill Street;

Development of the first-time buyers' houses in Mill Street;

Reconstruction of the Mill Street highway;

Construction of the two IRIS storage tanks and pump houses;

Development of the Old House of Keys Museum;

Reconstruction of Parliament Square with block paving;

Reconstruction and upgrading of highways and pavements;

Construction of new harbour office and facilities for resident and visiting boat owners;

Reconstruction of The Quay highway with block paving;

Lining of the exterior wall of the Big Pier;

Construction of new post sixteen accommodation at Castle Rushen High School;

New harbour lighting;

Upgrading of Castletown Police Station;

New harbour footbridge;

Provision of additional on-road parking at Janet's Corner;

Development of boat park and car parking at the Claddaghs;

Upgrading of the town's Public Sector housing stock;

Provision of pre-school facility at Victoria Road School.
Working for Castletown
Tony Brown has continued to liaise with Castletown Commissioners on a regular basis and has provided advice and assistance where appropriate to help them progress matters affecting the Town. He has continued to be actively involved with local organisations and is presently Chairman of the Castletown Festival Committee, President and Chairman of the Castletown Over 60s Club, Vice-President of the Rifle Club, member of the Southern 100 Motorcycle Racing Club, and he is a marshal at the Southern 100. He is President of the Castletown Chamber of Trade and Commerce and, as a local businessman, a member in his own right. He is a member of the Castletown branch of the Royal British Legion, and also a member of the Castletown Royal British Legion Club. As MHK for Castletown, he is an ex-officio member of the Castletown Heritage committee and is also a member of the organisation in his own right.
Housing for First Time Buyers
Tony Brown continues to express concern that so many families have to leave Castletown because adequate new housing is not available. He has therefore pressed for the provision of first time buyers' housing within the town and continues to meet with Government and the Castletown Commissioners with a view to realising a scheme. Tony has encouraged Government to seek to purchase suitable land for development and they are currently trying to secure a site which will allow much needed new housing to be built.
Millennium Year
Tony Brown was invited by the Castletown Commissioners to chair a committee which organised a series of community events to celebrate the new millennium. During the year, Tony and his committee organised twelve highly successful events which included the Millennium Exhibition, which portrayed the Island's history through the eyes of the town's children; various social events such as the Picnic in the Park; a pensioners' Tea Party; a town Garden Party in Lorne House; and a grand finale charity concert held in Castle Rushen High School with local entertainers and children from the town's schools. In excess of £1,800 was raised by these events, and this has been donated to the Special Care Baby Unit at Noble's Hospital.
Airport Terminals
Since becoming Minister in 1996 Tony Brown has continued to progress the on-going upgrading and development of facilities at Ronaldsway Airport. The existing 1950s terminal has been upgraded and modernised and is used as the check-in area, and a new entrance and new terminal with cafeteria facilities has also been developed. This investment has improved facilities for the traveling public.
Castletown Square and Parade
Tony Brown has been directly involved with the scheme to reconstruct the Square and Parade which is about to start. This will involve renewing the road and pavements and planting a series of trees around the edge of the Square to complement the existing trees. Care has been taken to maintain the integrity of the Square and Parade, and archive photographs were used as a reference point in developing the scheme which affects an important focal point of the town.
New Safe Crossing Points for Castletown
For over forty years there has been a need for a safe pedestrian crossing point at the entrance to Janet's Corner Estate. Tony has been able to resolve the problem by approving a new pavement and Puffin Crossing. Also, as Minister for Transport, Tony has recently approved a scheme, which he has been keen to see implemented, to improve safety at the junction of Alexander Road and Malew Road. This will include the provision of traffic lights and a safe pedestrian crossing point from Malew Road into Malew Street. It is proposed to implement this scheme before the end of the year.
The Mill Street Redevelopment Scheme
In 1990 Tony Brown initiated the scheme to redevelop Mill Street and part of Hope Street, an area which was in need of improvement. In the last five years a further phase has been developed which included houses for first time buyers and a sheltered complex. Due to the intervention of Tony Brown the final phase has been brought forward, providing four more sheltered units which will be completed next year. Also during this period, the remaining part of Mill Street's highway has been reconstructed with attractive paving matching up with the first phase of the development.
Old House of Keys Building
When the Old House of Keys building in Castletown became vacant in 1984 after the Castletown Commissioners moved to their new Civic Building, Tony Brown encouraged the Commissioners not to let the building so as to enable it to be restored to its original state as a House of Keys, enabling the public to appreciate how this branch of Tynwald operated when it sat in Castletown in the 19th century.
Since 1984, Tony has kept up the pressure and has initiated discussions with different agencies of Government, including Manx National Heritage and the Treasury, with a view to realising his goal. He is now pleased to see that the scheme has been completed and that the refurbished building opened on the 2nd of November of this year.
Highway and Harbour Improvements - Castletown
During the past five years as Minister for Transport Tony Brown has progressed a large number of schemes throughout the Island and Castletown has had its fair share of these.
Included has been the reconstruction of Castle Street, which has benefited pedestrians and drivers, and the reconstruction of Parliament Square which has seen the replacement of the old tarmac with block paving and new seating. The harbours have benefited by the development of new facilities including toilets and showers, and an extended harbour keeper's office. Tony
Janet's Corner Estate
Tony Brown has been actively promoting a scheme to refurbish the housing at Janet's Corner, and he has successfully persuaded Government to allocate £10m in this year's budget to enable a major scheme to be undertaken which will start in the year 2004.
No major structural improvement has been undertaken to the housing during the last fifty years, and Tony is pleased that at last progress is being made and substantial improvements will be undertaken. Tony is also keen to see the provision of additional play facilities for the children of the estate, and to this end he is in discussion with the Castletown Commissioners and the Department of Local Government.
took a keen interest in this development to ensure that the new building was in keeping with the historic nature of Castletown's harbour and streetscape.
In an endeavour to retain and improve the unique mill race which runs through Castletown, the race has been provided with boundary railings, and planting is to take place to help improve its visual aspect.
New Doctor's Surgery
Tony Brown has been very concerned at the lack of progress in providing the town with a new, modern doctor's surgery. He has been involved in assisting the doctors to identify a suitable site and has lobbied Government Ministers to provide the necessary finance for the scheme. After raising the matter during the Budget Debate in Tynwald last April, Tony has received an assurance from the Minister for DHSS that a new doctor's surgery for Castletown is now a priority, with the plans now being finalised and it is expected that this scheme will start next year using a site on land in the Sandfield Complex.
Policy for the Future — CASTLETOWN ISSUES
HOUSING
I continue to be concerned at the serious lack of any appropriate development of housing within Castletown to meet the needs of our community and although there has been some attempt by Government to try and address this recently, it is important that real progress is made and made soon so as to enable Castletown people to continue to live in their town. I will do what I can to promote an early resolution to this problem.
DOCTORS SURGERY
The provision of a new Doctors' Surgery for Castletown is a priority. Because of the age and limited size of the present surgery building it is unable to meet our requirements and its location causes access problems for many, especially for those with disabilities. I will continue to press for the early development of the new surgery and will look for a start as soon as possible next year.
POLICING
The lack of a dedicated Castletown-based police officer is a matter which causes me much concern. There is a need to improve on the present position, and whilst Castletown is part of a large Police division, I believe that at least one Police officer should be based in the Castletown Police Station and be our local community police officer, with the ability to work flexible hours to meet the local need.
YOUNG PEOPLE
Recently I have been involved in discussions with the Castletown Commissioners, the police and other government agencies and with many young people from the town. It is clear from these discussions that Castletown needs to develop a coordinated policy for leisure provision for the young people of the town. I will endeavour to bring this about.
CASTLETOWN'S INFRASTRUCTURE
I will continue to encourage the protection and enhancement of our historic town centre. A more pro-active role needs to be taken by government in the provision of grants to assist people who live in properties that are either Registered Buildings or are within the Conservation area.
THE CASTLETOWN LOCAL PLAN
It is imperative that the new Castletown Development Plan is progressed as a matter of urgency. The present uncertainty created by the current draft proposal being in limbo for such a long period is not acceptable. I will promote an early resolution to this matter.
CASTLETOWN'S BUSINESS SECTOR
Presently Castletown has a successful business sector even though there is considerable competition within the Island. Castletown's success has been hard won and I will continue to support and encourage all sectors of the town's business community which is the envy of many and plays an important role in the success of our town, providing us all with much needed services and employment. There is, though, one area of concern for businesses as well as for those coming to Castletown and that is the lack of adequate car parking to accommodate the town's needs; I will do what I can to assist in the development of additional parking.
NEIGHBOURHOOD PROBLEMS
I believe that early consideration should be given to the introduction of new legislation to provide the police and the courts with the powers to deal with residents who cause continual disturbances to their neighbours and the neighbourhood.
A CASTLETOWN MUSEUM
Castletown has an abundance of historic buildings and a rich history which is an integral part of the Island's story, much of which is projected by and under the control of Manx National Heritage. However, there is a substantial amount of Castletown's own history which is specific to our town and reflects how it has evolved and developed. I would like to see this important aspect of the town' history sited in a suitable location in the town so that the public can enjoy it. Therefore, I would like to see the establishment of a Castletown Museum owned and operated by a town Trust with the involvement of those in the community who have a direct interest in our town's history
Policy for the Future — NATIONAL ISSUES
YOU AND YOUR RIGHTS
I will continue to represent your interests and to safeguard your rights and entitlements under the Law.
TAXATION POLICY
I will continue to support a policy of lowering the income tax burden on individuals and businesses; this is an effective
way of ensuring that everyone benefits from the prosperity generated in the Island. However, I would not support reducing taxation if it meant reducing important public services such as, Education, Health and Social Care.
GOVERNMENT EXPENDITURE
Whilst Government has been fortunate in recent times to have been able to invest substantially in the Island's infrastructure and in services, we must continue to be prudent and ensure that we can afford to meet our future financial commitments. I will continue to try to ensure that all expenditure we undertake is within our means and that we do not get into external debt to finance our future. Whilst the Island has developed good reserves it must be recognised that due to the size of our economy we continue to be vulnerable, especially to external influences. We must continue to be vigilant and to protect our interests.
GOVERNMENT ASSISTANCE FOR HOUSE PURCHASE
The present problems associated with the housing market have to be dealt with. Because we live on an Island our problems are more acute and there is therefore a need for Government to become more directly involved in assisting residents who wish to purchase their own homes. The main problem is the difficulty in funding the cost of a mortgage; this is often due to the applicants' age and/or income. It is recognised that not everyone wants to buy their own home, but it is unacceptable that many of those who do, find themselves unable to get a mortgage due to their age. A specific government scheme is urgently needed to assist such people. Many live in public sector houses and in these cases, where their children have grown up and are working and the mother has gone back to work, they cannot now get a mortgage.
I believe that Government should consider introducing a mortgage scheme that provides for a 50% grant for house purchases within a certain price range for those who have lived in rented property for a minimum of ten years. This will then make available public sector houses for those who need them.
RESIDENCY CONTROL
The Residency Act is now in being and the work involved in developing the necessary administration is being developed. I believe that the implementation of this Act needs to be carefully managed and that when it is introduced it should be done in conjunction with changes in the present Control of Employment legislation. I believe that when the Residency Act is brought into operation, the main areas of control needed for employment will be in relation to itinerant workers i.e. those on short-term, twelve months or less employment contracts.
PLANNING
There is an urgent need to clarify planning policies and the lack of an all-Island Strategic Plan is creating many problems which affect all of us and I know these issues are a cause of concern for many. The issue of providing certainty and clear planning policies must be resolved soon.
RATES
I will promote and support the introduction of a meaningful rate rebate scheme to assist those who have limited incomes. This also ensures that those people benefit who are not eligible to pay income tax. I also support the introduction of a single occupancy rate rebate scheme. This would assist those who live on their own, acknowledging that they are less demanding on the services.
LOCAL GOVERNMENT
There is no doubt in my mind that local government in the Island must be restructured. The present situation is unacceptable and means that we have a local government structure that is generally unable to meet the local need at a local level. Local government is a vital component of government and for too long we have witnessed more and more services that could be delivered at local level being centralised. This means that the provision of local services is being dealt with by government's centralised agencies which do not necessarily understand local circumstances. It also means that many of those who serve in local government become increasingly frustrated by the lack of any effective input they can give to their community. Any local government reform, which I believe must involve a reduction in the number of local authorities and members, must recognise and reflect the individual character and needs of local communities. A restructuring of the financing of local government must also be an integral part of any restructuring.
THE DISABLED IN THE COMMUNITY
There is a need to improve facilities within our community to assist the disabled. More thought and care needs to be given to provide easier access for the disabled in our towns and villages. Government and local government need to be more conscious of the needs of the disabled when undertaking new developments, reconstructions or when providing new facilities. I support the introduction of a Disability Discrimination Act.
RECYCLING OF WASTE
I continue to support the recycling of waste and believe that a more proactive role needs to be taken. There is no doubt in my mind that most people are happy to become involved and to play their part in the recycling of waste. To be effective, government and local government need to work closer and there will be a need to implement legislative changes to require targets to be met. New collection methods will need to be introduced and a new system of charges may be required to encourage the main collectors of waste - the local authorities - to become active in encouraging the recycling of waste in their areas. I also believe that for public health reasons all local authorities should now be required by law to provide a weekly domestic refuse collection service.
NATURAL GAS
Within the next year a natural gas supply will be brought to the Island as the Manx Electricity Authority is bringing it in to generate electricity. As a consequence of this, a cleaner and cheaper fuel will become available on the Island, and although it may take a few years for the benefit to be available to householders and businesses, I believe it is vital that a statutory price regulator be put in place now, to ensure that the consumer will reap the benefits of this new fuel. For too long the Island has had to pay a high price for its fuels, especially gas, and areas outside Douglas have had to pay an even higher price. The introduction of natural gas into the Island provides a great opportunity to ensure fairness throughout the Island in the pricing structure. I believe that new legislation should be introduced at an early time in the life of the new House of Keys to ensure proper regulation of gas supplies and gas prices.
INTERNATIONAL MATTERS
Due to the way the Island has developed over recent years, especially in the world of commerce, we have had to become more involved in international affairs and this has meant dealing with external matters of great importance to the Island and how we relate to the international community. It is vital that government employs professional people of the right ability to represent the
Island in such important areas. We must guard against becoming complacent; we must be willing to robustly defend our position and to ensure that we are treated fairly. Recent investigations into our financial services have demonstrated what we now have to deal with as a result of the Island's involvement in the world of international business.
OTHER ISSUES
Some of the other issues of importance relate to such matters as protecting our environment; the introduction of new legislation, including employees' rights and the prevention of discrimination against employees; the maintenance of public services, public sector houses, highways, schools and leisure facilities.
I will continue to work closely with Castletown Commissioners and Castletown organisations for the benefit of the town and its people.
We must ensure that the quality of life that we all enjoy is protected and that the delicate balance between the Island's success and its quality of life is carefully monitored and that every effort is made to limit any possible damage.
Finally, I will continue to hold my regular Constituency Surgeries in the town which provide an additional opportunity for you to seek my assistance.
TONY BROWN - A PROFILE
Tony Brown was born in the Isle of Man and has lived in Castletown all his life. He is 51 years of age and was educated at Victoria Road Primary School and Castle Rushen High School.
Tony is married to Rachel, they have two teenage children and they have their own business 'Tony Brown Electrics'. Tony first became involved in youth work in 1969 and entered politics in 1976 at the age of 26, when he was elected to Castletown Commissioners. In 1981 he was Chairman of the Castletown Commissioners and was elected in that year to the House of Keys to represent Castletown and has been re-elected ever since.
Tony Brown is the longest serving minister in the Manx Government, first becoming a minister in 1986, and he has continued to hold ministerial positions since that date and until the recent dissolution of the House of Keys was also Deputy Speaker.
PRINCIPAL GOVERNMENT POSITIONS
Chairman of The Government Property Trustees
Minister for Health and Social Security;
Minister for Local Government and the Environment;
Minister for Tourism and Leisure;
Minister for Transport
LOCAL COMMUNITY INVOLVEMENT
President and member of the Castletown Chamber of Trade and Commerce
President and Chairman of the Castletown and District Over 60s Club
Vice-President of the Castletown Rifle Club
Chairman of the Queen Street Mission Trustees
Chairman - Castletown Festival Committee
Member of the Southern 100 Motorcycle Racing Club
Ex-officio Member of Castletown Heritage Management Committee
Member of Castletown Heritage
Business: Proprietor—Tony Brown Electrics, Castletown
Published by Tony Brown
Printed from the IoM Elections Website. www.iomelections.com
REPRESENTATION OF THE PEOPLE ACT 1995
PLEASE NOTE
The views and opinions stated within this manifesto are those of the electoral candidate and not those of 3 Legs Limited or its staff. Inclusion within this website does NOT represent any endorsement of this candidate by 3 Legs Limited.
3 Legs Limited is politically neutral in respect to this website and its contents. The above text was provided by the election candidate.
3 Legs Limited is not liable for any errors or omissions. E&OE