Douglas South - David Buttery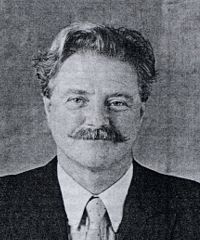 In the last five years the economy has grown faster than at any other time. This is mainly due to the success of the finance sector, which through foresight and careful regulation has become one of the world's best. My primary job as an MHK would be to make sure the benefits of this boom are passed on to the residents of Douglas South by way of improved services and infrastructure. Long term I would help maintain the prosperity of the Island by encouraging diversification into other areas as well as finance and working for a stable and secure future for us all.
HOUSING
I would support the establishment of an Island Housing Authority with a minister in charge to take responsibility for all of the public housing stock. Under this scheme the present local authorities would become area managers. The principles of this scheme would be to speed up maintenance and refurbishment, get empty properties let quickly and to give prospective and existing tenants a broader choice of location.
The authority would be responsible for new housing which it could fund solely or in conjunction with private developers. The Lord Street bus station could be developed in this way by giving the site to a private company to build apartments in exchange for fifty sheltered accommodation units on the ground floor. This would give additional housing stock at no extra cost to the taxpayer.
To get more people onto the housing ladder I would favour a shared equity scheme where the Government provides part of the cost of a home and becomes a partner in the ownership of the property. This would also save the building and maintaining of a local authority home.
I propose tax on property empty for longer than six months. This would encourage owners to either let or sell and could help stabilise house prices. Revenue from this tax would go to the Island Housing Authority.
CRIME & THE PRISON
Petty crime, vandalism and drug-abuse, all begin with boredom. Provision should be made for an indoor youth facility in our area, such as an industrial type building housing a range of activities e.g. skate park, BMX track, arena trials and kart track. Also workshops for schemes such as the Manx Motor Youth Project, which teaches youngsters how to ride, compete on, and maintain motorcycles.
Drug abuse has been tackled by the Police attempting to reduce supply, and whilst they lock people up at a steady rate, the problem continues. More resources should be devoted to reducing demand. The recently formed Drug and Alcohol Support unit should continue to get the full backing of the Government and a program of honest and comprehensive education on the dangers of the different types of drugs available should be initiated. I stress honest in this program because merely trying to scare young people away from drugs does not work. If a young person finds that they have been misinformed or lied to about a particular drug, then they are unlikely to take any notice of further information about any other substance. Poor drug education can do more harm than good.
The police should be operating CCTV as a crime prevention measure rather than the present system where Douglas Corporation hands footage over to the police after a crime has been committed.
There should be a review of the decision on the prison site, there would appear to be more suitable locations than the one chosen.
The new prison should be adequately staffed and provide facilities for training and have workshops to take in work from outside and offset some of the operating costs. Prisoners coming to the end of their sentence should be able to serve it in an open regime where they go to work or for training during the day, on release they should be subject to a post custody care and monitoring program. The present system of keeping prisoners locked up for long periods with nothing to do is sending inmates back into the community ill equipped to cope and often leads to re-offending within a short time.
HEALTH
The new hospital should be a centre of excellence, however this is unlikely to happen whilst morale is low in some departments. Where problems arise and need to be reported, an independent complaints inspectorate should be set up to allow criticisms to be reported anonymously. Staff should be able to complain without fear of sacking or victimisation.
Strict background checks should be made on all new staff to filter out the kind of sub-standard applicants who have caused problems in the past.
Similar financial incentives should be offered to local people going into the health service as are offered to persons joining from off the Island.
ENVIRONMENT
If I can do anything to prevent the siteing of the incinerator at it's proposed location, I will. Other than that I would propose the establishment of an Environment Agency along the lines of the one in the UK. This department would monitor a range of
emissions around the island, particularly the incinerator and would have the power to prosecute any infringements. It would have responsibility for recycling and promotion of green issues within the island.
An alternative to incineration would be a combination of recycling and a gasification plant. Other countries recycle up to 50% of their waste, so there is no reason why we could not. Gasification is a system of waste disposal similar in principle to the method of making coal gas, the waste is cooked in a sealed chamber and the gas given off is used to power the process. The remaining inert ash is used to make blocks for sea defences. Although this system was offered free to the Government in exchange for the waste contract, it was turned down.
A commitment to renewable energy sources is needed, the UK government is pressing ahead with offshore wind generators that are now as cost effective as coal-fired power stations. Given the amount of wind we get, I am sure several of these could have been used instead of the gas turbine station at Pulrose.
To encourage new marine life and promote diving tourism, a series of man-made reefs could be created around the coast, projects like this have been successful in Canada and the Cayman Islands.
ECONOMY
We should build on our successes and learn from our failures. The finance sector is successful because it is forward looking and can respond quickly to change, the tourist industry collapsed in the early eighties because of complacency and lack of investment.
Gradual expansion into areas other than fiance such as eco-tourism and e-commerce would help create a stable and diverse economy. Future capital projects should be capable of generating an income, things like marina development and a motor racing short circuit. The brilliant Eden Project in
Cornwall shows what can be achieved with vision and commitment. (The Dome shows what can happen with massive investment and lack of direction)
In the present uncertain world the Island could be promoted as a safe tourist destination, the decline in foreign holidays could be to the advantage of the IOM
We have some very talented people on the Island, 1 think we should make more use of them in planning our future.
TRANSPORT
I support the upgrading of the electric and steam railway lines that could then be used for a commuter service with modern rolling stock and new stations. There is also a proposal to build a loop line from Douglas station around Pulrose and Spring Valley and link the system along the promenade. The aim is to provide a sixty minute service from Ramsey or Port Erin.
Such a system could take the pressure off the roads and parking in Douglas and would not be anywhere near the cost of the systems recently opened in Croydon and Manchester as the basic infrastructure is already there.
The vintage rolling stock could then be used off-peak for tourists.
ADDITIONAL POINTS FROM CONSTITUENTS WHICH I SHALL BE LOOKING INTO
If the MEA is bringing in gas for the power station and then selling it to the gas company to sell on to us, why can't we buy gas straight from the MEA?
Should we have to go private if we want dental treatment? Not, if like me you have been paying stamps for twenty-nine years.
Published by David Buttery 14, North Quay, Douglas
Printed from the IoM Elections Website. www.iomelections.com
REPRESENTATION OF THE PEOPLE ACT 1995
PLEASE NOTE
The views and opinions stated within this manifesto are those of the electoral candidate and not those of 3 Legs Limited or its staff. Inclusion within this website does NOT represent any endorsement of this candidate by 3 Legs Limited.
3 Legs Limited is politically neutral in respect to this website and its contents. The above text was provided by the election candidate.
3 Legs Limited is not liable for any errors or omissions. E&OE