Rushen - Philip Crellin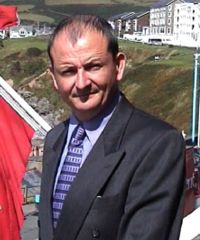 May I first introduce myself to you the voters of Rushen. I am a 42-year-old married man with two children of school age. I was born and educated on the Island and have spent most of my working life here. For the last eighteen years I have, with my wife, owned and operated the Balmoral Hotel in Port Erin. I have been a Commissioner of Port Erin for the last 14 years. I am Port Erinís member of Marashen Crescent Housing Committee, a community governor of Rushen Primary School and I am a helmsman of Port Erin Lifeboat.
On 22nd November the general election will take place and you have three members of the House of Keys to elect for the sheading of Rushen.
I stand for Rushen ē Honesty ē Common Sense ē Approachability. the Isle of Man and pledge a full-time commitment as your M.H.K.
OUR SOCIETY
The basic structure of our society must be maintained and encouraged to grow and prosper. The building blocks of our society; housing, employment and law and order, have to be managed and protected.
The Government has lost sight of the need for good quality, reasonably priced housing and a good stock of local government housing. The price of private housing across the Island for first and second time buyers is far too high in relation to wages. Our young people are suffering great financial hardship even with the Grant system, indeed many canít even gain a foothold on the housing ladder. Government must regain control of the housing market through Government mortgages for first time buyers, by ensuring and sustaining sensible economic growth. If it doesnít we will all suffer as our work force will be pressured to leave the island due to the lack of affordable housing.
A controlled and sensible growth of the economy in the Isle of Man is what we must strive for. We need good and varied employment with a fair wage, sensible employment laws and regulations so we can all have the opportunity to reach our full potential. It is widely accepted that the economy is growing too quickly at present. The imbalance between vacancies and people to fill them, might at first seem to be a good position to be in but without the human resources we cannot sustain any growth. Government must make sure that prudent and controlled growth in all areas of employment and the economy are its watchwords to protect our future. Our new police station in the South, with its up-to-date facilities, was long overdue; I have for a long time now, been of the opinion that we need more police officers. I realise that this would involve more investment and expense but I feel that to be able to control and combat crime, we must have a well resourced police force.
Drugs are a growing problem on the Island. We would all like to think that the sickness of the drug culture is not on our Island but it is here and it is growing. This is not an issue we can afford to ignore. The police force and the courts must be given the very latest resources to combat this problem so we can protect our population, especially our young people who are most at risk. They are, after all, our future.
THE ECONOMY
In the last five years we have seen a considerable growth in our economy. Our young people have opportunities never seen before, though we must be careful to ensure that the growth of our economy is both controlled and sensible. We need a diverse and wide based economy, able to support us if any one of the sectors fails. Government must support our traditional employment areas of farming, fishing, industry and tourism. If we donít support these areas of employment our standard of living and our culture will suffer. Without farming our countryside will suffer. Without fishing our smaller areas of population will miss a vital part of our community. Without industry we will be reducing our diversity of employment. Without tourism we will forfeit the investment in our heritage and put at risk the viability of the retail sector which in turn may reduce the variety of employment opportunities the Island currently has to offer. The finance sector is a great asset to our economy. In the last 20 years it has made possible many of the infrastructure improvements we are now seeing. We must never put all our eggs in one basket as far as our economy is concerned. Government must also encourage and develop new and diverse employment opportunities and help our economy expand in a controlled fashion.
HEALTH
The new hospital at Braddan and the new development opposite Southlands are to be welcomed. The next phase of improvement to our health service must be investment in people. We will have, when finished, a state-of-the-art hospital. To be able to operate the hospital we must invest in staff, they must be given every opportunity to develop their skills and receive the professional recognition they deserve. With our expanding population there is a need to keep the ratio of GPs to population at a realistic level and thereby reduce the waiting times we are all experiencing. The provision of eye tests and dental care and our Community Services for all sections of the community must be maintained and if the resources are available, strengthened to meet our needs.
EDUCATION
The Isle of Man has a good record in education. Our exam results, the teacher to pupil ratio, the building of new schools and refurbishment of schools and their maintenance are all achievements of which we can be proud. However, cracks are beginning to appear. The recent reports show that some of our teachers are not happy. The adoption of the UK curriculum must be monitored closely whilst we have a responsibility to prepare our young for convergence into the UK education system, a flexibility in our own should be inherent, so that it can react to local educational and training needs. The resources for teachers must be improved and the number of support staff increased, so that the expanding burden of administration experienced by teachers is reduced. In this way teachers will be afforded more time to do what they do best - Teach.
The Higher Education of the Isle of Man has been expanded in recent years to meet our work forceís needs, as well as the demands of our students. This investment in education is to be welcomed so that all employers are provided with the professional and well-educated staff they need. An area of concern however is the lack of provision for the small number of pupils that the system seems to let down. I know that the Department of Education has invested in this area but more needs to be done for these young people. I believe everyone has something to contribute to society and that if adequate, meaningful and timely provision is made for those failing in the mainstream system, in the long term, the workload of the educators and the police will be eased. The provision of pre-school facilities in Onchan is a good idea and must be expanded to the whole island. The Government commitment to education must be at the very least maintained. I strongly believe that an increase in the department of educationís budget is necessary to continue and improve the education standards.
WASTE DISPOSAL
I have always been in favour of mixed waste disposal i.e. burn, recycle and re-use. We in the South were the first to have an amenity centre. It has been very useful and we are awaiting redevelopment, which will give us more scope to recycle and reuse. Before we start any recycling scheme we should have an energy audit. The sight of the Island taking glass to the UK was appalling; it cost the environment more in energy to export the glass than we were saving! The new scheme to re-use glass in the building industry is to be applauded. We need more schemes along these lines. The composting of all green waste at amenity sites must be encouraged; we should not be burning this type of material which is, after all, mostly water. The mass burn project is, I believe, the way forward to dispose of the waste that is left after recycling and reusing. The incinerator must be inspected and monitored to the very latest health and safety standards both by the Government and an independent expert body. We can, that way, be sure that our health and safety is assured. Before it is commissioned and in operation the question of the safe disposal of fly and bottom ash must be addressed to our satisfaction. Consideration should be given to the benefits of using the heat generated, unlike the waste that occurs at Peel power station. I have always supported the IRIS scheme and the building of the infrastructure in the Isle of Man. It is not acceptable in this day and age to dump our waste in the sea untreated.
Allow me to thank you for reading my manifesto. It has been written with all the people of the Isle of Man, young, old, married and single in mind. If we can all work towards a well balanced and caring Nation, we will all benefit. If you have any particular subject on which you would like my views please donít hesitate to contact me.
Rushen is a very large sheading, in the months running up to the election I will, with my team of helpers, be delivering my manifesto to as many of you as possible. Again I would say if we have not seen you and you would like to talk to me, please just phone 833126 and I will call to see you at a mutually convenient time.
If you require help with a proxy or postal vote or transport on polling day I will, with my team, be only too happy to help. Telephone 833126 or E-mail: balmoralpe@advsys.co.uk
On election day my committee room will be at 47, Station Road, Port Erin. Our phone number on election day will be 837057.
Philip H. Crellin
Printed from the IoM Elections Website. www.iomelections.com
REPRESENTATION OF THE PEOPLE ACT 1995
PLEASE NOTE
The views and opinions stated within this manifesto are those of the electoral candidate and not those of 3 Legs Limited or its staff. Inclusion within this website does NOT represent any endorsement of this candidate by 3 Legs Limited.
3 Legs Limited is politically neutral in respect to this website and its contents. The above text was provided by the election candidate.
3 Legs Limited is not liable for any errors or omissions. E&OE