Glenfaba - Walter Gilbey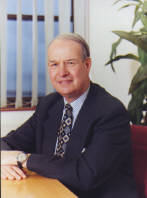 Dear Residents of Glenfaba,
It has been a pleasure and privilege for me to serve you as your representative in the House of Keys and I am seeking your continuing support in the election on November 22nd. Although I have met many of you on my regular calls around Glenfaba, I have prepared this manifesto so that you have a record of my policies on the local and national issues. Local issues are highlighted on page 4 and national issues examined on the inside pages.
HIGHWAYS
Many problems have been resolved, speed limits extended and a Home Zone introduced to Slieau Whallian Park.
Continual pressure is needed for traffic calming measures in our villages, the enforcement of speed limits and urgent road works.
HOUSING
The retirement units at Magher Vay, St Johns are an outstanding success and improvements have been made to Department of Local Government and the Environment (DOLGE) Estates.
More retirement units and first time buyers homes must be built in our villages and further improvements made to DOLGE estates.

NEW FACILITIES
The excellent new school at St Johns and the pool for the west are progressing.
They must be completed successfully and new projects developed as required.

CHANGES IN LOCAL GOVERNMENT AND BOUNDARY REVIEWS
These have been prevented so far.
They must be strongly resisted in the future.

THE ECONOMY
Our economy has enjoyed years of substantial growth due to the success of the private sector and Government initiatives.
We must not be complacent – the world is in crisis - more pressure is likely from G7, OECD and EU. Therefore it is right to control Government Revenue and Capital Expenditure and increase Reserves.
AGRICULTURE
Over the last 20 years the position of and prospects for agriculture have deteriorated.
The situation is now worsened by the policies of the UK Government and its gross bungling regarding foot & mouth disease.
It is vital that the Manx Government ensures the survival of family farmers who provide a strategic food supply, maintain the Manx countryside and uphold the Manx way of life.

THE ENVIRONMENT
Great advances have been made in introducing environmentally friendly policies.
Further sustained progress must be achieved, particularly in waste management.

LAW AND ORDER
Police numbers and equipment have been improved and new criminal laws introduced.
We need to continue strengthening the Police Force and legislating to crack down on and punish criminals.
If you would like to discuss any of the policies outlined in this manifesto or other matters, please ring, fax or e-mail me or come to one of my meetings which are listed on the enclosed invitation card.

Yours,
Walter Gilbey
AGRICULTURE
GENERAL – The position of this vital industry is worse than at any time since the 1930's due to the policies of the EU and UK. It is essential that the Manx Government should ensure that the Island's agriculture, and particularly its small family farms, survive. I strongly support protecting our Manx produced food as much as we can against imports.
FOOT & MOUTH - There is still no certainty that this terrible scourge has ended in the UK. Accordingly, we must maintain all the necessary precautions to prevent it reaching our Island. In the longer term I personally hope that the Manx Government will fight, as it has for other
environmental improvements, to bring about a general system of vaccination throughout the UK and Europe. It is the only civilized way of dealing with this and other diseases - where would we be without vaccination against human diseases? It is also the only effective way of ensuring that Island life and events like the T.T. never again suffer from the effects of this plague.
THE ECONOMY
Over recent years the Island has enjoyed unprecedented economic growth – in 1999/2000 real Gross Domestic Product (discounting inflation) was up 13.7%. Government Revenue Expenditure and Government Reserves have grown substantially. The 2001 Budget reduced the rates of income tax from 14% and 20% to 12% and 18%. Also further tax reductions are planned. The Island's unemployment rate is now only 0.5%.

However, our rate of economic growth may now be slowing. The world is in crisis, recession is feared and pressure on the Island's financial sector from international bodies including the G7, OECD, EU and UK will increase. Therefore the Government is right to carefully control Revenue and Capital Expenditure and to continue to build up our reserves. Growth in expenditure should be concentrated on the Health Service, Housing, Education and Law & Order. The continued diversification of the financial sector and the growth of other existing sectors – Industry and Tourism – and new activities like e-commerce are to be encouraged so that we have as wide an economic base as possible. These policies require members of Tynwald with the widest possible business and financial experience and who believe in being even more careful with other people's money than with their own.
CONTROL OF IMMIGRATION
I have always said that to preserve our environment and Manx way of life we should control the number of new people coming to the Island. Therefore I welcome the Residence Act and the steps that are being taken to bring it into operation, which it should be unless the rate of inflow reduces.
LAW & ORDER - THE FIRST PRIORITY OF ALL GOVERNMENTS.
PREVENTION OF CAUSES - Prevent poverty, deprivation and other social problems so they do not lead to crime; while not dissipating our resources on those who neither need nor deserve our help.
PUBLIC CO-OPERATION - Everyone must join in the fight against crime. The Police can never win it alone. It is the duty of those who know the perpetrators of crime, particularly drug dealing, to try to prevent or report them.
STRONG POLICE FORCE – I am glad that while I have served on the Police Advisory Committee over the last five years the force has been greatly strengthened in terms of both numbers and equipment.
DANGER OF LEGISLATION FAVOURING THE CRIMINAL –There is a danger that legislation, particularly policies in respect of human rights, can favour the criminal to the detriment of law enforcement and the law-abiding majority. This must be prevented.
THE PRISON – A new prison is absolutely essential for several reasons. The existing facility cannot contain all those who unfortunately need to be sent there. The sanitary conditions are quite unacceptable and it is subject to international criticism which is detrimental to the Island
as a whole.
FOR THE YOUNGER GENERATION
HOUSING - Affordable housing is a necessity and DOLGE is on target to provide an average of 80 first time buyers' houses every year. The cost of these is often subsidised through the provision of Government land. In addition, purchasers get grants of up to £16,500 under the House Purchase
Assistance Scheme for first time buyers. Grants have been approved for over 130 dwellings. The commitment to build 80 public sector homes per annum also makes more available for the younger generation.
JOBS IN THE ISLE OF MAN - Although we only have 0.5% unemployment, I strongly support the use of Work Permits and Residence Legislation to ensure that, should unemployment rise, Manx residents will have preference for job vacancies.
EDUCATION - In the modern world, education is ever more important. Therefore the provision of new schools, such as that at St Johns and improvements to the education service are a priority, as is the provision of additional financial resources.
TRAINING - This will become increasingly important in an ever more technological world. Accordingly, the expansion of the College of Further Education and of the Business School is to be encouraged.
MODERN TECHNOLOGY - It is vital that the Island should keep up with worldwide advances in modern technology. I am glad to have my own e-mail address and website and to be Chairman of Manx Telecom which is a worldwide leader in the introduction of third generation mobile
telecommunications.
SPORTS FACILITIES - Sport is vital for a balanced society and particularly for the younger generation. Therefore I strongly support the extension of the NSC and the provision of sporting facilities of all kinds, such as all-weather pitches and the pool for the West. I actively take part in
various equestrian sports myself.

PROTECTING THE ENVIRONMENT IS ESSENTIAL FOR US AND FOR OUR CHILDREN
Much progress towards a greener Island has been made by Walter Gilbey, his political colleagues and officers in the Department of Local Government & the Environment since he has been Minister, despite the refusal of some to recognise this. However, he is not complacent and is determined to build on the achievements to date.
WASTE DISPOSAL
The integrated waste strategy is making steady progress. It is hoped to soon appoint an officer to spread the gospel of waste minimisation, particularly to the younger generation. Re-use and recycling are being encouraged through the civic amenity sites. The Southern site will soon be substantially improved and will have a green waste composting operation. A new site has been acquired in Douglas and one is being sought
in the North. Recycling includes glass, which is converted to an aggregate, paper, scrap metal, aluminium, textiles and batteries.

Work will soon start on building an ultra-modern waste to energy incinerator which will generate electricity at Richmond Hill.

A pilot scheme for kerbside collection of material for recycling is planned and the Department is testing new schemes for collecting and recycling office waste.
REDUCTION OF ALL ATMOSPHERIC POLLUTION
The Department is acting on various fronts to ensure that the Isle of Man plays its part in meeting the aims of the Kyoto Protocol. It is testing gas/petrol and electricity/petrol cars. It has introduced grants for environmentally friendly heating and insulation. It intends that planning policies should put even more emphasis on environmental protection.
CO-OPERATING INTERNATIONALLY
The Department is working jointly with the Irish Government on plans for the Environmental Committee of the Anglo Irish Council to reduce and eventually end the radioactive discharges from Sellafield. Walter Gilbey as Minister represents the Isle of Man on KIMO, an international organisation working to reduce the pollution of Europe's seas.

More resources are being sought for new initiatives to encourage environmental protection.

We all have our part to play and as a small step this manifesto is printed on recycled paper and only one is being sent to each household.
MODERN GOVERNMENT AND THE PRESENT ECONOMIC SITUATION NEED EXPERIENCE WALTER GILBEY HAS WIDE EXPERIENCE IN BUSINESS & FINANCE
Walter Gilbey trained and worked for ten years with Kleinwort Benson Ltd., one of the City of London's leading Merchant Banks.
He was Finance Director of International Distillers & Vintners Ltd., a multinational group for ten years.
His present appointments include Chairman of Manx Telecom Ltd. one of the Island's most technologically advanced companies, which is working to make the Island an e-commerce centre.
A Director of the Isle of Man Steam Packet Company Limited, one of the Island's biggest companies, the services of which have improved substantially over recent years and are being improved further.
A Partner in the G.G.H. Equitation Centre and Director of Gilbey Farms Ltd.
He has been and is also actively associated with various other businesses. Thus he understands from personal experience the problems of both international groups and small family businesses in a wide range of industries.
EXPERIENCE IN PUBLIC ADMINISTRATION - he has never been afraid to accept difficult and controversial positions and regards each difficulty as one more challenge to be overcome.
During Wailer Gilbey's 19 years in Tynwald he has served as: Chairman of the Civil Service Commission and Chairman of Whitley Council Official Side. In the former position he helped to introduce modern assessment, management, recruitment and training methods to the Civil Service. Chairman of the Planning Committee, Chairman of the Environmental Services Committee of the Department of Local Government and the Environment, Vice Chairman of the Forestry Board, Member of the Manx Electricity Authority and Member of the Department of Highways Ports and Properties responsible for Highways, Member of the Department of Industry. A Member of the Treasury, being politically responsible for Income Tax, Customs & Excise and Commercial Development, and Chairman of the Financial Supervision Commission. For the past 2'/2 years he has been Minister of Local Government & the Environment with wide-ranging responsibilities including waste disposal, housing, planning, the environment and local government.
He has also served on numerous committees of the House of Keys and Tynwald including: Road Traffic Bill, Road Traffic Regulation Bill, Criminal Law (Amendment) Bill, Firearms Bill, Public Passenger Vehicles Bill, Data Protection Bill, Advocates Bill, Ballacarmel Cottages, Freedom of Information, Bill of Rights, the Keys Standing Orders, Tynwald Management and Tynwald Arrangements.
Walter Gilbey is recognized as being one of the best briefed and prepared members of Tynwald in respect of both political debates and meetings of Government Departments.
LOCAL ISSUES
HIGHWAY PROBLEMS
A main concern for many years has been over highway matters, particularly excessive speeding. At my request the Police have frequently operated radar/ laser patrols.

However, the only permanent effective deterrents are speed cameras which, following pressure from me, can now be legally introduced, and physical traffic calming measures such as those seen in the 'adjacent isles'. It is satisfactory that Slieau Whallian Park is now a 'Home Zone', but we urgently need effective traffic calming measures in Higher Foxdale, Lower Foxdale, St Johns, Patrick, Glen Maye and Dalby. I shall keep on pressing for these until we get them.

HOUSING
Following the enormous success of the retirement bungalows at Magher Vay, St Johns, I am working to obtain similar units at Higher Foxdale and Glen Maye and more for St Johns.

There are first time buyers homes planned for Archallagan Terrace, Higher Foxdale and I hope for more in St Johns and Glen Maye. I am glad that various improvements have been made to the Department of Local Government's houses in Higher Foxdale, St Johns and Glen Maye.

FACILITIES FOR THE WEST
It is satisfactory that the new St Johns Primary School and the pool for the West are progressing. The closure of the Ballawattleworth Nursing Home is a sad loss and I have pressed for its replacement by a suitable unit. I have asked for more well-designed bus shelters in St Johns.
INTERFERENCE WITH LOCAL GOVERNMENT AND OUR BOUNDARIES
The fight to prevent this has been successful so far, but is by no means over.
I am grateful to all those in the public sector who have helped to get things done. However much more is needed and I will keep on pressing for it.

KEEP WALTER GILBEY WORKING FOR YOU BY VOTING FOR HIM

YOUR VOTE AND EVERY VOTE IS VITAL VOTE GILBEY FOR GLENFABA ON THURSDAY 22ND NOVEMBER

POSTAL VOTES – After you receive my manifesto there may just be time to get you treated as an absent voter or for you to appoint a proxy, provided you contact me at once.
MEETINGS – Details of these are on a separate invitation card for your convenience.
POSTERS – The support of those who display my posters in their cars or homes is very much valued and appreciated – the more the better. Indeed, I should be most grateful if anyone who would like a poster would ring. However, I have decided not to have posters in public places such as electricity poles because I feel to do so is environmentally unfriendly.
HELP ON POLLING DAY – This would be most welcome. If you can help, please ring me.
QUICKEST WAY TO CONTACT ME: Telephone 851450.
If you cannot reach me on the above telephone number, please ring my mobile 498949 which has voice mail.

Please e-mail your comments to walter.gilbey@talk21.com
Published by Walter Gilbey, Ballacallin Mooar, Crosby
Printed from the IoM Elections Website. www.iomelections.com
REPRESENTATION OF THE PEOPLE ACT 1995
PLEASE NOTE
The views and opinions stated within this manifesto are those of the electoral candidate and not those of 3 Legs Limited or its staff. Inclusion within this website does NOT represent any endorsement of this candidate by 3 Legs Limited.
3 Legs Limited is politically neutral in respect to this website and its contents. The above text was provided by the election candidate.
3 Legs Limited is not liable for any errors or omissions. E&OE