Rushen - Quintin Gill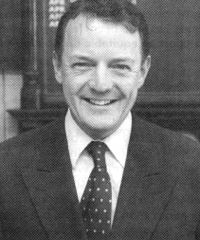 Dear Voter,
Elections are a central part of our democratic system. This election is your opportunity to choose your representatives in the House of Keys to serve you for the next five years. We live in uncertain times and there will be many challenges facing us all in the years ahead. The people of Mann need a government focused on optimising business opportunities whilst never losing sight of the duty to provide services and an environment for today's population and for generations to come.
The economy of the Isle of Man has never been more buoyant, yet this affluence has not been felt by all members of our community. I support an equitable distribution of prosperity on a needs-led basis.
Economy
The finance industry has brought unprecedented affluence. Recent tragic events in the U.S.A. have shown how precarious economic well being is however, particularly for small economies such as ours which I believe has an over-reliance on one sector. Economic diversification is easier to talk about than to achieve, but government must continue to work towards sustainable diversity. There is also a necessary balance to be struck between generating revenue and maintaining the quality of life and our national identity. Government must never lose sight of this consideration.
Housing
There is clearly something wrong when so many of our young working people cannot access the local housing market. I believe the Government has a duty to assist these members of our community. I would propose the formation of a Manx Housing Association and the re-introduction of a speculation tax to prevent individuals or organisations profiting from the hardship of our young people. I strongly support continued investment in public sector housing, the introduction of a shared equity purchase scheme and amending Government financial assistance schemes to reflect the contemporary housing market.
Government must accept there is an urgent and widespread housing problem and show more political will in addressing it.
Open Government
There are, of course, some matters that must be treated as confidential. However, the concept and application of open and accountable government, especially in a small jurisdiction such as ours, is one I would completely support. An Ombudsman with effective powers, should be appointed to ensure that the administration of local and national government is more transparent and accountable.
Population
Uncontrolled immigration will erode our national identity and quality of life. I support the introduction of the subordinate legislation and structural mechanisms to administer a Residence Act if circumstances demand its introduction.
Government should do more to promote awareness of Manx culture and history. A sense of national identity is important; not only in today's troubled times, but for future generations.
SOUTHERN ISSUES
There are currently a number of local developments, which will effect the people of Rushen.
The Southern Health Care Facility at the Four Roads is due to be completed in the next few years. These services must be complemented by community-based services to support people in their homes.

Railway Line Proposals. This matter is far from settled. I would work to get central government departments to consider all viable options before making a decision about this vital resource.

Port St. Mary/Port Erin Harbour Facilities. I support the re-generation of these ports. However, any scheme must be preceded by a genuine consultation process and must be sympathetic to local need.

Facilities for Young People. I support the use of government facilities on an needs-led basis. School facilities should be available outside normal school hours and the clinic at the Four Roads could make an ideal venue for various groups including our young people. In determining what activities should be provided we should engage in a partnership with these groups.

I am not going to make any promises I may not be able to fulfil. I will, however, promise that if elected, I will always strive to serve the best interests of the constituency and the Isle of Man as your full time representative.
Thank you for taking time to read this manifesto. I hope you will feel that having considered the merits of the candidates you will give me - QUINTIN GILL - your vote and the opportunity of representing you and the other constituents of Rushen, as your Member of the House of Keys.
Published by Quintin Gill
Printed from the IoM Elections Website. www.iomelections.com
REPRESENTATION OF THE PEOPLE ACT 1995
PLEASE NOTE
The views and opinions stated within this manifesto are those of the electoral candidate and not those of 3 Legs Limited or its staff. Inclusion within this website does NOT represent any endorsement of this candidate by 3 Legs Limited.
3 Legs Limited is politically neutral in respect to this website and its contents. The above text was provided by the election candidate.
3 Legs Limited is not liable for any errors or omissions. E&OE