Douglas North - John Houghton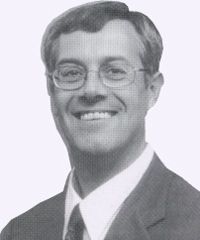 Dear Constituent
There will be no contested election in the Constituency of Douglas North on Election Day, Thursday 22nd November.
Mr. Henderson and I were re-elected (unopposed) into the House of Keys to serve a further five-year term.
I have Outlined my views on many important issues of concern to people living in the constituency and the Island.
I have served my first term in the House of Keys. There are many issues which need to be addressed both nationally and within the constituency. I will continue to put 100% effort into representing your interests. This manifesto has been delivered by hand, to avoid a potential cost of postage to the taxpayer of Over £1000
Yours sincerely
John Houghton
I am 42 years of age and married to Susan with two daughters, Christine aged 12 and Sarah aged 11. I am Manx born and was brought up in Laxey before residing in Onchan and leaving school to join my father in the Post Office. In 1980 I was appointed Sub postmaster of Willaston. I spent 20 very happy years as a Sub postmaster and Newsagent until retiring from the business in 2000.
I am a former Commandant of the Special Constabulary with a total of 18 years service. This valuable experience has assisted with many political issues and I still enjoy close contact with my former colleagues in the regular and Special Constabulary.
My close contact continues with the Isle of Man Karate Club where I taught many students Shotokan style karate. The Club continues to flourish and I remain its Treasurer.
Having been in retail business for many years I have a vast experience of Community Life. I am well aware of the requirements of our Senior Citizens and young people and know only too well how essential it is to apply sound principals and values of life to future policy as a member of the House of Keys and Government.
During my first term of office in the House of Keys I have served in the Departments of Education, Health & Social Security, Local Government and the Environment and was a member of the Office of Fair Trading.
I also chair the Willaston Youth Club Management Committee and am an advisor to the Joey Dunlop Injured Riders Fund. This new Charity aims to construct an injured riders lodge which will in future provide accommodation for former TT and MGP competitors, who are disabled, during practice and racing events each year.
THE ECONOMY
The finance sector continues to provide a vital contribution to the Islandís economy. I will be pleased to continue to support all areas of the Industry.
The consequential effects of the atrocities in the USA on 11th September have not been fully assessed even though it is clearly acknowledged that there has been an enormous impact on worldwide trade and relations.
The finance sector may require urgent Government assistance to support their business and to that end We need to monitor the Situation and be in a position to act wherever necessary.
Following the introduction of the Corporate Service Providers (CSP) Act I have certain reservations with regard to the future viability of existing accountants Who run sole proprietor businesses I shall continue to monitor the situation and will campaign for an amendment to the act if desirable.
The Island is enjoying virtually full employment and our finances are healthy and continue to grow. Our successes must be shared by all of the community we must guard against complacency and our international obligations to maintain our high standards of financial regulations must continue to be of utmost importance.
HOUSING
Lonan, 33 first time buyer houses at Cronk Griannagh Braddan and 20 elderly persons bungalows to be situated in Andreas. There are many additional schemes currently being worked up and will come on line in the near future. There are also moves afoot to produce a number of second time buyer units by the department. This pace must be continued and accelerated. It is the only way to cater for our young people wishing to purchase affordable housing.
As a member of DLGE I chaired a special committee charged with addressing issues concerned with empty properties. The Empty Property Initiative Committee (EPIC) investigated reasons why there are so many derelict and unused properties scattered around the Island together with unused space above retail business premises. A further issue regarding the time taken to turn around empty Local Authority homes was investigated. A number of recommendations made by EPIC have been approved by Tynwald. These will provide future accommodation for people within built up areas and will, hopefully, reduce the demand for further development of green field sites.
TRADE & INDUSTRY
This department holds the key to diversification of Government Revenue.
There are a number of high quality initiatives under way which includes the developing Film Industry and E-Commerce. I am pleased to support any new initiatives that have been well thought through and evaluated. The continual re-training programme's undertaken at Hills Meadow providing industry with a highly skilled workforce are important for our future prosperity. The design and building programme for a new training centre will shortly commence with a capital funding of £1.2 million in 2001-02. A thriving economy needs office technology and apprentice training as a vital component to maintain the needs for industry to keep ahead of their competitors in Europe.
THE NEW HOSPITAL
The new hospital is progressing well and should begin a period of commissioning within one year.
However I fear there will be problems to face in the future with regard to adequate staffing and space. Tynwald has approved a dedicated diabetic suite to be provided in the new building. Space was not originally allocated for this new facility and I am aware that other medical disciplines require more space to meet their future requirements. I have raised this issue in Tynwald and have suggested that the DHSS bite the bullet and provide adequate accommodation for all our future needs.
Thirty-nine percent of governmentís income is spent on the D.H.S.S.This must be effectively managed to ensure value for money and achieving a high quality service for all.
POPULATION & INFRASTRUCTURE
Since I 996 the Islandís population has risen by about 5000 people to 76,3 15 as recorded in the 2001 census. Although we welcome the valued contribution from those new residents serving the finance and service sectors, I am concerned about the increasing burden of uncontrolled immigration into the Island. The Residence Act is now in place. Secondary legislation has to be approved by Tynwald before any "gateways" can be put in place which would control immigration. When the Act goes live there will be an enormous amount of bureaucracy laid at the door of all residents. However the Islandís infrastructure which includes Housing, Roads, Health and Education, is beginning to crumble. Measures need to be considered by our new Parliament to control the numbers of new residents coming into the Island.
EDUCATION
The Department of Education has experienced a period of growth and change. This includes developments in curriculum within Primary Schools through to the development of the International Business School at the Nunnery. The Computer Bus is a commendable initiative which has flourished under its originator Mr. Alex Townsend who should be congratulated for this wonderful achievement. I shall continue to place educational issues to the forefront of my interests.
We have a high standard of education on the Island and our future lies in the hands of the dedicated teachers and educationalists who continue to achieve excellent results. We must continue to support their efforts.
Our New Constituency Primary School: Cronk-y-Berry. One of the proudest moments of my political career was to have the honour of opening this wonderful new primary school on Friday, 6th November 1998.
The School opened its doors in September of that year with 193 children spanning two reception classes, three infant classes and three junior classes, together with a Sensory Impairment Unit.The Nursery was opened in 1999 and provides a popular and valuable facility for pre-school children. Willaston Primary School was relieved of severe pupil pressure following the opening of Cronk-y-Berry. This popular and established school is undergoing a programme of refurbishment and has benefited from the recent construction of an extension which provides enhanced kitchen and storage facilities.
LAW & ORDER
Policing I am most concerned that there are insufficient numbers of uniformed police offices patrolling the streets. When a call for help is made the patrolling police officer is the person on the front line who responds. The Constabulary has doubled its strength since the early 1980ís to almost 250 officers. Twenty years ago a section of officers consisting of seven constables and one sergeant patrolled the Douglas area. In addition, there were further officers based at Willaston, Pulrose and Onchan.
On some occasions there can be as few as 2 or 3 Constables covering the whole of Douglas, Onchan and Braddan areas. This is clearly unacceptable. Another well known fact is the average level of experience of police officers based in Douglas is 2 years. Probationary police officers are working alone without proper supervision and guidance and are sometimes expected to manage crimes of a serious nature unaided.
Some Section Sergeants have to complete so much unnecessary paperwork which usually means that they are unable to spare little more than an hour per shift to supervise constables in operational policing matters.
I shall continue to fight for a larger presence of officers on patrol in the future so that members of the public will be better protected.
Public Order Act This was the first piece of legislation I brought through the House of Keys in the form of a Private
Members Bill. The new law plugs a gap in the fight to control anti social behaviour in all public places. Hundreds of prosecutions have been successfully pursued under the Public Order Act. The effect has dramatically assisted the police to stem the tide of misconduct prevailing on our streets.
Curfews "for those who misbehave" Following support from members of the House of Keys I was given leave to introduce a Bill which prescribed curfew orders as a punishment for convicted offenders, I later elected to merge my legislation into one of the Department of Home Affairs Criminal Justice Bills. This has since been enacted and I am pleased to note that it is having the desired effect.
Criminal Justice Extended Sentence Bill As another personal initiative, this proposed legislation deals with persons who commit very serious offences. It dictates that an offender on reaching his third conviction will be sent to prison for a mandatory term of 20 years. The Bill was rejected by the Keys earlier this year. If re
I shall ill seek to reintroduce this Bill into the new Parliament.
Drug and Alcohol Abuse Not with standing the Chief Ministerís 5-year strategy on Drug and Alcohol abuse a more pragmatic response must be taken to ebb the tide of spiraling abuse.
Criminal Legal Aid Many repeat offenders are squandering the public purse by causing contested Court hearings when they know they are clearly guilty of the offence as charged. I shall continue to press for a review in policy whereby recidivists are ordered to repay legal aid on each occasion when they have reached their third conviction.
CCTV Cameras I welcome the provision of CCTV cameras in appropriate locations throughout Douglas. They should however be linked to Police Headquarters where action can be taken instantaneously to deal with offenders. I will continue to work towards the provision of CCTV cameras in Nobles Park and at the Willaston Shops.
These are just a few examples of our achievements to date:
Constituency Surgery.
Open every Thursday morning from I0-I2am at the Willaston Methodist Church Hall. This allows us to work together with the community providing an essential partnership on many issues both personal and National.
Re-opening of Willaston Police Station.
A Section of Police Officers operate from the Police Station. These officers patrol all of the Willaston and North Douglas area.
Phased Renewal of Willaston Windows.
Our number one constituency commitment, this programme has almost reached its halfway stage through the estate.
Bus Shelters.
An ongoing programme of newly sited shelters together with new modern replacements will continue to be pursued.
Street Light Improvements.
Progressing to plan. The upgrading of lighting in the Constituency is of great significance, especially where the elderly reside.
Roads and Pavement Improvements.
Are being steadily progressed. I will campaign for increased funding to continue this essential work.
Cronk-y-Berry & Willaston Youth Clubs.
Are a huge success for the children. They operate on a weekly basis and the membership registers are over subscribed. These facilities need to be expanded so that they can be enjoyed by more children.
TT Course Road Closures.
Road crossings and corridors to enable residents to escape in between races from Governors Hill, St. Ninians, First, Second, Third Avenues, and Hillberry Green. We also successfully campaigned for the roads to remain open in the event of a delayed start to racing.
Road Adoption - Governors Hill.
We have campaigned tirelessly for this important measure which recently came to fruition.
There are many issues receiving ongoing attention. Some of these are:
Unadopted Roads.
Laureston Grove and Close are now undergoing preliminary surveys and costing by the D.O.T. (Linden Grove will follow Laureston Grove and Close).
BMX Track.
To be ideally situated within the Willaston playing fields. Further pressure will be put on Douglas Corporation to achieve this much needed facility for our children.
New Playing Fields.
Douglas Royals our Constituency Football Team have no permanent home to call their own where they could develop their training programme's. A large area of Government land at Johnny Wattersons Lane has been earmarked for the Department of Education to develop future sporting facilities. I shall continue to campaign for this land to be utilised for Sport and Recreation.
Nobles Park Drainage Scheme.
Treasury approval has been given to this vital scheme. When completed it will prevent the flooding of houses in Poplar Terrace, Poplar Road. Upper Dukes Road and Marathon Drive.
I Restricted Parking.
There are a number of areas spread around the constituency which require the immediate provision of Disc Zone Parking so that residents are able to park near their homes. We will continue to pursue these matters with the D.O.T.
Road Safety Issues.
Pressure will continue to be placed on the DOT for the provision of:
(I) Puffin Crossings to be situated at Laureston Terrace (in place of the Zebra Crossing) and near to the junction with Johnny Wattersons Lane and Ballanard Road.
(2) Improved access for residents exiting Hightonwood Hill onto Johnny Wattersons Lane.
(3) Urgent improvement of the junction at Johnny Wattersons Lane with Ballanard Road.
(4) Speed restrictions and traffic calming measures throughout the Constituency.
Future Private Membersí Bills
I intend to address, the following issues of concern to the public by the introduction into the new House of Keys the following Bills:
Domestic Noise Nuisance; Overgrown Hedges and Trees; Property Surveys.
DOMESTIC NOISE NUISANCE
This is an unwelcome and anti social problem which seems to be gathering momentum. The inconsiderate behaviour by people towards their neighbours, which includes building works, playing loud music and banging doors together with screaming and shouting especially late at night must be properly addressed by effective legislation. I have been working up proposed measures which I intend to bring to the House of Keys.
OVERGROWN HEDGES AND TREES
Many residents of this Island are suffering from the loss of amenity by neighbours who allow their hedges and trees to grow to an unacceptable height. Such neglect can block other peoples views and natural light previously enjoyed within the home or around the garden.
My proposal would be to bring forward appropriate legislation which would specify a height restriction, and would for example, outlaw lelandi conifers which can grow to over 100 feet in height.
PROPERTY SURVEYS
Before the exchange of a Property, a requirement insisted upon by the Mortgage Lender is for a professionally prepared survey be undertaken to establish its condition.
The present situation permits the unnecessary and costly repetition of surveys by each prospective purchaser on the same property.
I believe that future legislation should demand the Vendor be liable to provide a professionally prepared survey. A copy of which should then be made available to a prospective purchaser.
ABANDONED VEHICLES
The unsavoury appearance and dangerous condition of unroadworthy vehicles which tend to litter many streets and car parks throughout the Island are detrimental to our environment and are a potential danger to childrenís safety. One of my Departmental responsibilities in the DLGE was to address issues concerning abandoned vehicles.
I have brought forward many changes in policy and have successfully moved an amendment to the Law in the House of Keys which now has the desired effect by accelerating the time taken to remove these vehicles.
NEW PRISON
I support the establishment of a new prison and will be pleased to celebrate the closure of operations at Victoria Road which is in a residential area. A new prison should definitely not be located at Ballafletcher. This site will be vigorously opposed. The Prison would be more appropriately situated at Creggans Hill or MearyVeg.
PARLIAMENTARY QUESTIONS
During my term of office I have asked almost 200 Parliamentary questions in the House of Keys and Tynwald. I have covered many issues of concern and in some cases those issues have been the subject of motions for debate in Tynwald.
PROVISIONAL DRIVING LICENCES - THEORETICAL TESTS
In 2000 the Department of Transport brought in legislation, which stopped the issue of provisional licences to people who had not passed a Theoretical Test.This effectively denied the right of a person to be able to learn to drive and achieve the appropriate experience in order to pass the theoretical test. In the House of Keys I successfully moved an amendment in the Road
Traffic (Amendment) Bill 2001 which means with effect from 1st January 2002 persons requiring a provisional licence will be entitled to obtain one immediately without having first to pass a theoretical test.
RETIREMENT PENSIONS
I have always supported the interests of the elderly. This has included free TV licences for persons who have attained the age of 75 years. The Manx Pension Supplement was dramatically increased in April this year, due to a very healthy and well performing National Insurance fund. I will continue to fight for a more financially equitable position for those elderly homeowners whose homes can be placed in jeopardy when meeting the escalating costs of long term care in a nursing home.
HYPERBARIC CHAMBER
I have campaigned for almost 5 years for the DHSS to provide sufficient financial resources to fund a nurse at the Hyperbaric Chamber. There is currently one single operative undertaking all operations at the Chamber. I believe Mr. Downie requires urgent full time assistance from a qualified nurse who could also be trained in Hyperbaric medicine. This will ensure a smooth and continual service. I shall continue to campaign for appropriate funding until the fight is won.
CHILDREN IN CARE
The Social Services division of the Department of Health & Social Security currently employ three separate agencies to look after children who are in the care of the department. Many children have been abused and others have severe behavioural problems. I am most concerned about the standard and protocols operated by certain agencies. During my time as member for Social Services I pursued this
subject vigorously. The department was seriously devoid of the provision of a secure establishment and I campaigned for the funding to construct a secure unit.
I am pleased to report that approval was given for such a building and its completion will be reached in the near future.
I will continue to support many environmental issues which benefit the Island. The IRIS system is progressing well. When completed, our beaches will be safer and more pleasurable places to visit, especially for our children. More attention is now being paid to the reduction of pollution in our rivers. The Government Laboratory undertakes regular testing of water quality and I am pleased to support the Manx Rivers Improvement Association in their valuable work.
ENERGY
The diversification of energy supplies to the future Islandís infrastructure is to be welcomed. I am delighted that the under sea cable has been successfully established by the M.E.A. I support the provision of the new gas fired power station together with the planned provision of mains natural gas supplies to domestic homes.
FARMING
I fully support the farming Industry on the Island. The Manx National Farmers Union are to be praised for keeping members of the House of Keys informed on all farming matters and I have taken every opportunity to visit working farms and to fully understand the day to day problems experienced by todayís farmers. I have also supported the way the Government has conducted its precautionary policies during the Foot and Mouth outbreak in the UK.
Published by John Houghton
Printed via the IoM Elections Website. www.iomelections.com
REPRESENTATION OF THE PEOPLE ACT 1995
PLEASE NOTE
The views and opinions stated within this manifesto are those of the electoral candidate and not those of 3 Legs Limited or its staff. Inclusion within this website does NOT represent any endorsement of this candidate by 3 Legs Limited.
3 Legs Limited is politically neutral in respect to this website and its contents. The above text was provided by the election candidate.
3 Legs Limited is not liable for any errors or omissions. E&OE