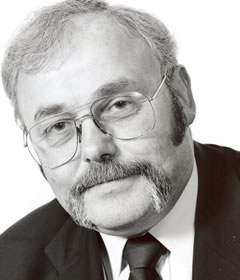 Candidate Video Interview

Manifesto
Not Yet Available
Candidate Profile
Tony Brown - Castletown
| | |
| --- | --- |
| Full Name | JAMES ANTHONY BROWN |
| Age | |
| Marital Status | |
| Children | 2 |
| Place of Birth | |
| Occupation | PROPRIETOR & SPEAKER OF THE HOUSE OF KEYS |
Political History & Views
What is your political history or relevant experience?
First elected to Castletown town Commissioners in 1976 elected Chairman in 1981

First stood for the House of Keys in 1981 General Election and was elected and have been returned continuously since that date. Have been returned unopposed twice - 1991 and 2001.

Was the youngest member of the House in 1981 and am now the longest serving member.
Political career:
1981 to 1986 - Chairman Government Property Trustees (from 1983); member of the Tourist Board; Local Government Board; Assessment Board; Highway Board.

1986 to 1991 - Minister for Health and Social Security (1986 to 1989); Minister for Local Government and the Environment (1989 to 1994); Minister for Tourism and Leisure (1994 to 1996).

1996 to 2001 - Minister for Transport (1996 to 2001); Deputy Speaker of the House of Keys (2000 to 2001).

2001 to-date - Speaker of the House of Keys (2001 to-date); Deputy President of Tynwald (2002 (Jan) to-date); Chairman of numerous Committees of Tynwald and House of Keys.
For further information please see the Tynwald Companion 2006.
Are you a member of any organisation which guides or influences your political views or polices?

What are your main national issues?
What are your main local issues?
Provision of adequate housing for the towns needs
Employment opportunities
Securing and enhancing the town business infrastructure
Securing, improving and developing the towns infrastructure
Protecting and enhancing Castletowns built heritage and environment
What do you believe you would bring to government as an MHK?
I will, as I have since first being elected continue to work tirelessly for the benefit of the people and for the Nation as a whole.
I will continue to strive to help the most vulnerable in our society.
I will continue to be available, approachable, honest, open and forthright.
I will do what I believe to be in the Islands best interest
I will continue to play an active part in our local community