More News Stories

Subscribe to RSS Feed
Brown looking forward to more free time
Mon, 25 Jul 2011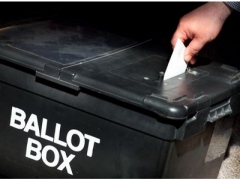 The Chief Minister says he's looking forward to more free time after announcing he won't be seeking re-election in September.
Tony Brown has confirmed he won't stand in the General Election, ending a 30 year stint as MHK for Castletown.
Mr Brown says he'll continue to be involved in the town's community, and that he'll miss being involved in politics.
He started his political career aged 26 when became a commissioner for Castletown, before being elected to the House of Keys five years later.
He says he's optimistic about the Island's future, as incomes are higher and unemployment lower than when he entered politics.
Three candidates have already come forward in Castletown, hoping to be elected to the House of Keys.