Slow start at Douglas East polling station
Thu, 29 Sep 2011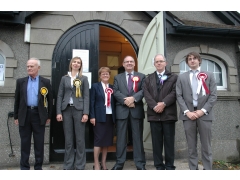 It's general election day on the Isle of Man with keys seats contested in all 15 constituencies.
64 candidates in total are standing for the House of Keys.
The successful ones will be sworn in on October 4th
Nominations for the Chief Minister will be made on that date too.
People on the electoral role have until 8pm tonight to cast their votes.
This woman helping out at a polling station in East Douglas says turn out hasn't been great there so far, but she's hopes it will pick up later when people finish work...[play clip]
A helpline has been set up to help voters.
It'll be manned between until 8.00pm.
The number is 685 754