More News Stories

Subscribe to RSS Feed
2 more candidates for Onchan
Fri, 24 Jun 2011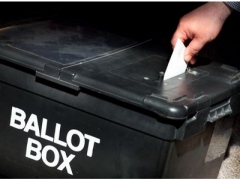 Two more candidates have come forward in Onchan for the House of Keys General Election.
Retired trade unionist James Corrin says he's standing because of disgust at £1.8million being spent on works at Queen's Pier in Ramsey.
Mr Corrin says the structure is a piece of junk, and would have rather seen the money spent on keeping a dedicated breast care surgeon.
Meanwhile, the Liberal Vannin Party has announced its second candidate for the constituency.
Zac Hall, a pilot currently working as a Senior First Officer with Eastern Airways, will stand alongside Party Leader Peter Karran.
Onchan elects three members to the House of Keys