Two last-minute changes to election candidates
Tue, 30 Aug 2011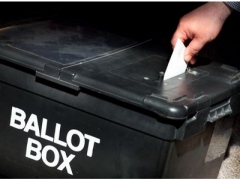 They've been two last-minute changes to the line up of people seeking election to the House of Keys.
Another candidate has stepped forward for Rushen.
Liberal Vannin member David Jones is an engineer from Lonan.
It makes it a six way contest in Rushen.
The other candidates are John Orme, Lawrence Skelly, Phil Gawne, Juan Watterson and Quintin Gill.
Meanwhile, one Douglas West candidate was omitted from the list.
Martin Moore says there was a minor problem with his nomination paper and he's upset that it wasn't accepted on a technicality.
All constituencies will be contested on 29th September and there'll be at least two new faces in the House of Keys, with the retirements of Tony Brown and David Cannan.